Benivo can support creating hierarchy between action items and ensure employees are aware of them as they navigate through their digital relocation/pre-boarding experience.
General guidelines
---
Benivo's Workflows and Actions are an essential tool for employers wanting to communicate clear action items for employees to take within specific timelines.
Accessing Actions and marking them as complete can be pre-conditioned based on either timelines or hierarchy.
Benefits to utilising Benivo Dependencies ability:
Clearly outline outstanding actions for employees.
Increase sense of urgency when it comes to actions being completed in a specific order.

Provide focus to the relevant Actions at relevant points in time.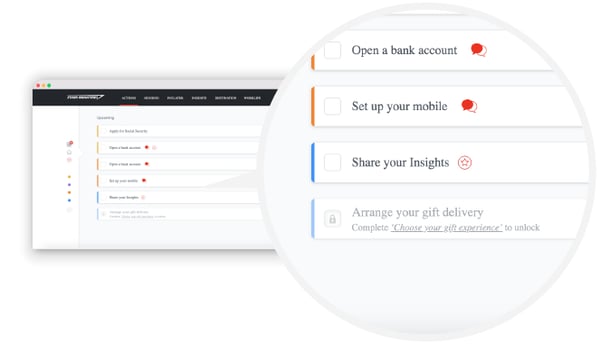 Employee platform experience
---
There are 2 types of dependencies:
Timeline dependant - Enabling action access based on timeline anchors (i.e. 5 days before work start date)


Action dependant - Enabling action access based on the completion of a previous action,
There are 2 types of locks that can be applied:
Soft lock - Employees are able to see the content of the action (instructions etc) but will not be able to mark it 'complete' until the relevant dependency has been fulfilled.


Hard lock - Employees will only see the title of the upcoming Action and it's due date. Clear instructions explaining the relevant dependency will be provided to the employee.
Implementation
---
Implementation is quick and easy and done by Benivo:

Use this table (download to create your own copy) to itemise the action items you would like to create dependencies for.


Provide these details to your Client Success Manager. Implementation can be live within 10 working days.

Last updated: Dec 30, 2019