Core-Flex International Transfer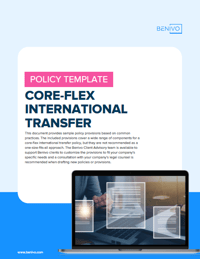 ChatGPT generated and Benivo modified policy template. This document provides sample policy provisions based on common practices, and a review of our 2023 Core-Flex Policy Benchmark Report. The included provisions cover a wide range of components for a core-flex international transfer policy, but they are not recommended as a one-size-fits-all approach.
The Benivo Client Advisory team is available to support Benivo clients to customize the provisions to fit your company's specific needs and a consultation with your company's legal counsel is recommended when drafting new policies or provisions.
This policy template is the second in a series of templates that will be released over the next few months. Previously released templates include:
Download the Policy Template