Benivo's Sustainable Business Practices
From Vision to Action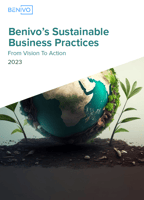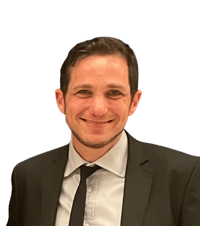 A message from our CEO
Nitzan Yudan
Welcome to Benivo's journey towards promoting environmental, social, and
governance (ESG) best practices. As CEO, I am proud to share our commitment to
creating a positive impact on society and the planet by empowering our stakeholders
to make responsible choices that lead to sustainable outcomes.
Our Recent ESG Accomplishments:
Achieved ISO 27001 certification for our Information Security Management System (ISMS), ensuring the highest standard of data security and privacy for our clients.
Donated $33,750 in 2022 to charities selected by members of our Changemakers network, demonstrating our commitment to giving back to our communities.
Donated over $22,000 to charities in 2022 on behalf of over 4,500 of our platform users who shared insights, tips and valuable information to help their colleagues make important decisions.
Implemented comprehensive diversity, equity, inclusion, and belonging (DEI&B) initiatives, promoting an inclusive and equitable work environment for all team members and complying with the Modern Slavery Act 2015.
Focused on reducing our carbon footprint by minimizing greenhouse gas emissions, conserving energy, using renewable energy sources, recycling, reducing waste, and managing water responsibly.
Continued our ongoing support of remote and hybrid work arrangements for our employees, reducing our carbon footprint related to commuting and contributing to a more sustainable work environment.
Our Ambitious Goals for the Future:
Expand our efforts to reduce and offset carbon emissions associated with our
clients' mobility benefits-related activities.
Prioritize work with suppliers that are women or minority-owned, demonstrate efforts to reduce their environmental impact, and are committed to strong performance in areas such as labor practices, human rights, and anti-corruption measures.
Enhance our governance and compliance initiatives, ensuring regulatory compliance and enforcement of a code of conduct that upholds ethical business practices.
Our Belief in ESG Principles:
At Benivo, we firmly believe that our commitment to ESG principles is fundamental to our success and the well-being of our stakeholders. We are excited about the journey ahead and the opportunity to make a positive impact on the world, together with our clients, employees, and supplier partners. (Please download our complete report to learn more.)
Warm regards,
Nitzan Yudan
CEO, Benivo