Managing Personal Identifiable Information During Relocation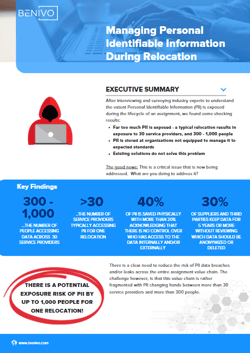 After interviewing and surveying industry experts to understand the extent Personal Identifiable Information (PII) is exposed during the lifecycle of an assignment, we found some shocking results:
Far too much PII is exposed - a typical relocation results in exposure to 30 service providers, and 300 - 1,000 people

PII is stored at organizations not equipped to manage it to expected standards

Existing solutions do not solve this problem
The good news: This is a critical issue that is now being addressed. What are you doing to address it?
Complete the form to download the full report.
Download the Research Report