Case Study:
Instantly Book Temporary Accommodation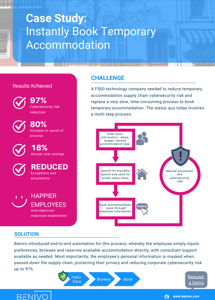 A F500 technology company needed to reduce temporary accommodation supply chain cybersecurity risk and replace a very slow, time-consuming process to book temporary accommodation. The status quo today involves a multi-step process.

Download the case study to learn more about how the solution resulted in:
97% Cybersecurity risk reduction
80% Increase in speed of the process
18% Annual cost savings
and more..
Complete the form to download the case study