Case Study:
End-to-end solution for Global Mobility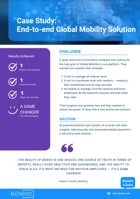 A large American e-commerce company was looking for the holy grail of Global Mobility in one platform. They wanted one solution that included:
A tool to manage all internal work

A tool to coordinate work with vendors — making it fast, streamlined and an easy process

An engine to manage core-flex policies and have employees do the selection process and pick what they need.
Their program was growing fast and they wanted to unlock the power of data with a true end-to-end solution.

"The Benivo platform sits above all our tools right now — we initiate everything from this platform, for example household goods shipment. Almost like a shopping cart — you add everything to the cart, check out and that initiates these services with the vendors." - Head of Global Mobility

Download the case study to learn more about why they selected Benivo.