Case Study:
Automating Travel Expenses Reconciliation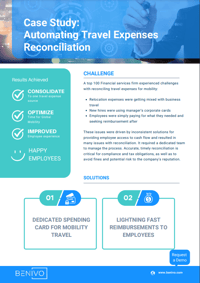 A top 100 Financial services firm experienced challenges with reconciling travel expenses for mobility:
Relocation expenses were getting mixed with business travel
New hires were using manager's corporate cards
Employees were simply paying for what they needed and seeking reimbursement after
These issues were driven by inconsistent solutions for providing employee access to cash flow and resulted in many issues with reconciliation. It required a dedicated team to manage the process. Accurate, timely reconciliation is critical for compliance and tax obligations, as well as to avoid fines and potential risk to the company's reputation.
Download the case study to learn about the solutions that helped them:
Consolidate to one travel expense source
Optimize time for global mobility
Improve employee experience
Complete the form to download.