Benivo: HR user access management
It is important to keep track of who in your organisation has access to the Benivo platform and ensure access is available only to those who need it. You will also want to add new users when you have new joiners in your team, or you may wish to create a demo or test account to view the employee experience.
We've made this process easy for you to manage. In the reports section of your Benivo Management Platform you have a report called 'Management Platform client access'. This report has two tabs:
Account roles & permissions - this report lists all HR users with live Management Platform access and the type of access they have.
Invite a colleague to MP - this tab includes a form where you can request access for new colleagues and team members, or request a test account.
This guide explains how to see who has platform access and how to request the setup of new users, either for access to the Management Platform or access to demo the Employee Platform.
Reviewing Management Platform access
The Account roles & permissions report provides the following data:
Name & email address
Date of last login
Whether the user has 'Masterview' access. This is the ability to switch to the Employee View to review the content and experience as if they were logging in as an employee.
The type of access the user has. Roles & permissions are fully customisable, with four layers of customisation available. You will see four columns: Benivo Admin 1, Benivo Admin 2, Benivo Manager 1 & Benivo Manager 2. Each type can have different permissions set so these will have been created based on your specific needs. If you have any questions about what the access types mean for your organisation, contact your Client Success Manager.
If an account needs to be deactivated or edited for any reason, please contact your Client Success Manager who will be able to arrange this for you.
Requesting new Management Platform user accounts
Requesting a new user account is quick and easy and can be done via a simple form. The below bullet points provide more information on the types of access available:
Management platform: access to the client portal. This is where you can invite employees, view reports and view the status of your employees.
Employee view access: take a tour of the employee experience. This can be used if you or a team member wish to demo the employee experience only, but do not need access to the Management platform.
Masterview: the ability to explore the employee view of different populations/locations described above.
Your email will be collected solely so we can contact you when that user account has been set up. Should you have any specific requirements for that user's account, these can be added in the 'additional notes' field at the bottom of the form.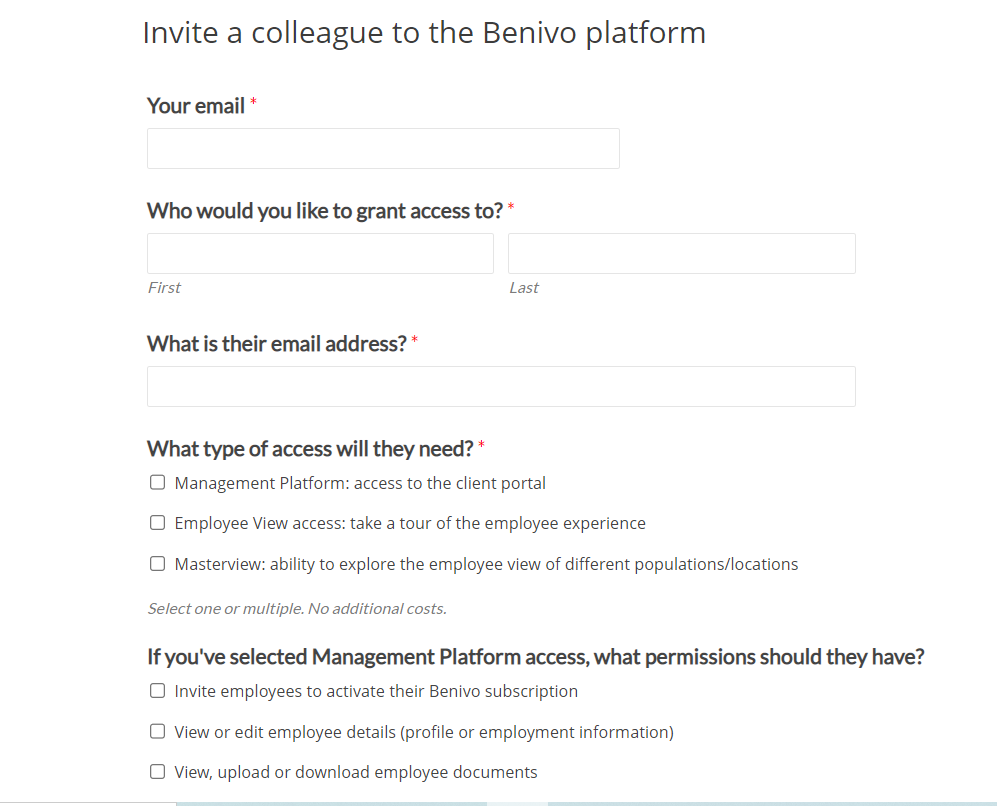 Last updated: 25th January 2022